Photo Chain in Venice Italy
Photo Chain in Venice Italy
This is an ONGOING photo chain for anyone.
Here are the rules:
1) You copy and print out the current photo. I recommend minium of 8x10 at either Wal Greens or Costco.
2) Travel to Venice Italy and try and find the following restaurant. Trattoria Da Mimmo
There are more details below.
3) Take a photo of the front of the restaurant. I would love to see you in this photo!!
4) Ask to meet the Owner or Manager. Introduce yourself as a "friend of Captitane Dan"
5) Present the Current photo to the Owner/ Managers and get a NEW photo with them while holding the current photo.
6) Stay and have dinner. It's delicious!!!
7) Email me the NEW and tell me your story! You can post it on Facebook and tag Jodi Comstock or just email me at this website!! Simple.
The Story starts with classmate Dan Glessner For a time, Dan was stationed over in Italy and this was one of his favor restaurants. When follow classmates Mike and Jodi Comstock were planning their first trip to Italy. Dan gave them some pointers and suggested trying to find the out -of- the- way restaurant.
Since Mike and Jodi loves treasure hunts; they agreed to take a photo of Dan and the owners from his last visit. Dan had hope some day to get them a copy.
Upon arriving at the restuarnt in Venice. The Comstock took a new picture while holding the old photo to show Dan the deed was delivered.
And so the fun began.....
We hope you will share the story and invite others to keep the chain going.
Here is the Current photo!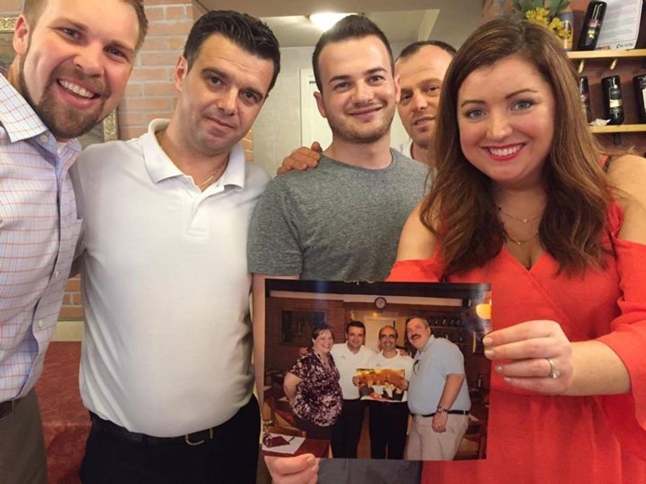 Resturant: Trattoria Da Mimmo
Location: Venice Italy
Trip Advisor:
https://www.tripadvisor.com/Restaurant_Review-g187870-d1917367-Reviews-Trattoria_Da_Mimmo-Venice_Veneto.html
Address: Cannaregio, 1372, 30121 Venice, Italy
Neighborhood: Cannaregio
Phone: +39 041 718015